We made it through another summer, y'all! No more 100+ degree days. Maybe, just maybe (if the construction noise and dust aren't too bad) we'll be able to open the windows again soon. Fall is here and it's a great time to get outside to our local parks, including our SLNA neighborhood park on Del Curto.
Maybe you've noticed the explosion of butterflies in the air. Fall is a really great time to plant nectar plants for next year, including those to help the monarchs. Check out these two articles from the Lady Bird Johnson Wildflower center and Wizzie Brown our Extension Agent Specialist, that talk about butterflies.
Enjoy the cooler weather!
It Takes a Landscape: Fall Nectar Plants Could Save Monarchs
http://urban-ipm.blogspot.com/2016/09/have-you-seen-me-snout-butterflies.html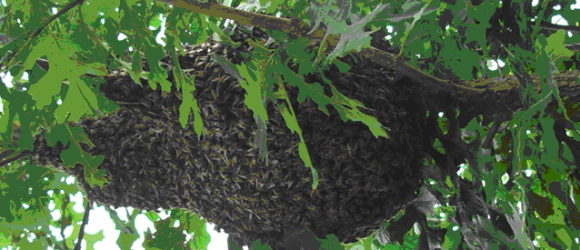 Add this to the March excitement of Spring Break and SXSW – it's honey bee swarm season! At least honey bees don't add to our traffic woes. Our IPM Program Specialist, Wizzie Brown, clues us in to what's happening with honey bees in the spring time, and what to watch out for. Let us know if you spot any swarms in the neighborhood!
Honey bee swarms
Honey bees are beneficial by producing honey, wax and pollinating crops. With warmer temperatures, honey bees are becoming more active and may soon begin to swarm.
Honey bee swarms look like a large clump of bees clustered together. The swarm may stay in a location from a few hours to a week. Swarms are produced as a part of the colony's reproductive process. An established colony produces a new queen, causing the old queen and half the worker bees to leave the colony to search for a new nesting location. Swarming honey bees are usually gentle and unlikely to sting. Swarms are not protecting their home, food or offspring. Scout bees are sent out from the swarm to search for a nesting site. Colonies produce comb and honey and are defensive. Bees from a colony are more likely to sting as they are guarding their home, food and offspring.
Sometimes, honey bee colonies can be found in wall voids, chimneys, attics or sheds. If bees are in a wall void, DO NOT block their entrance; this makes them search for another way to exit and could lead bees into the structure. To keep bees from entering a home, seal any holes found in walls where pipes enter the home, cracks in window framing, knotholes, weep holes, or cracks between wood and brick junctures.
While many enjoy having honey bees around, some people are severely allergic to their venom. This, along with other situations, such as bees located near sensitive areas (such as playgrounds) may require removal or even extermination of the bees.
People should NOT try remove or exterminate bees on their own. Beekeepers and pest control companies have equipment to carry out these jobs in a safe manner. The city or county does not provide bee removal services.
For more information or help with identification, contact Wizzie Brown, Texas AgriLife Extension Service Program Specialist at 512.854.9600. Check out my blog at www.urban-ipm.blogspot.com
This past Saturday we had many volunteers meet up at our neighborhood park for "It's My Park Day". The weather could not have been better! The hearty crew spread mulch around trees and did some trash pick-up. In addition to enjoying some good snacks and t-shirt schwag, we were visited by Council member Ann Kitchen. Thanks to J Rhatigan for organizing the effort and thanks to all who lent a hand to help our park!