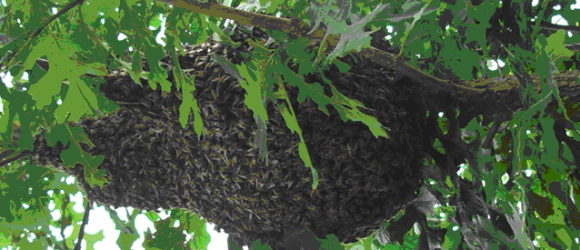 Add this to the March excitement of Spring Break and SXSW – it's honey bee swarm season! At least honey bees don't add to our traffic woes. Our IPM Program Specialist, Wizzie Brown, clues us in to what's happening with honey bees in the spring time, and what to watch out for. Let us know if you spot any swarms in the neighborhood!
Honey bee swarms
Honey bees are beneficial by producing honey, wax and pollinating crops. With warmer temperatures, honey bees are becoming more active and may soon begin to swarm.
Honey bee swarms look like a large clump of bees clustered together. The swarm may stay in a location from a few hours to a week. Swarms are produced as a part of the colony's reproductive process. An established colony produces a new queen, causing the old queen and half the worker bees to leave the colony to search for a new nesting location. Swarming honey bees are usually gentle and unlikely to sting. Swarms are not protecting their home, food or offspring. Scout bees are sent out from the swarm to search for a nesting site. Colonies produce comb and honey and are defensive. Bees from a colony are more likely to sting as they are guarding their home, food and offspring.
Sometimes, honey bee colonies can be found in wall voids, chimneys, attics or sheds. If bees are in a wall void, DO NOT block their entrance; this makes them search for another way to exit and could lead bees into the structure. To keep bees from entering a home, seal any holes found in walls where pipes enter the home, cracks in window framing, knotholes, weep holes, or cracks between wood and brick junctures.
While many enjoy having honey bees around, some people are severely allergic to their venom. This, along with other situations, such as bees located near sensitive areas (such as playgrounds) may require removal or even extermination of the bees.
People should NOT try remove or exterminate bees on their own. Beekeepers and pest control companies have equipment to carry out these jobs in a safe manner. The city or county does not provide bee removal services.
For more information or help with identification, contact Wizzie Brown, Texas AgriLife Extension Service Program Specialist at 512.854.9600. Check out my blog at www.urban-ipm.blogspot.com
This past Saturday we had many volunteers meet up at our neighborhood park for "It's My Park Day". The weather could not have been better! The hearty crew spread mulch around trees and did some trash pick-up. In addition to enjoying some good snacks and t-shirt schwag, we were visited by Council member Ann Kitchen. Thanks to J Rhatigan for organizing the effort and thanks to all who lent a hand to help our park!
We received the following update from the City of Austin about the Del Curto Storm Drain improvements. Visit this link for the background information about this project.

We are entering into the "Design Phase" for the Del Curto Storm Drain Project.
During design, our engineering consultant will be working out all the details of the proposed project. The design phase ends with a set of construction plans that will be used to permit, bid and construct the project. The project¹s goal is to allow storm water to flow safely to West Bouldin Creek through a combination of underground pipes and open channels. The water will enter West Bouldin Creek near Thornton.
The project will include the following components:
Bluebonnet Lane
We will install curb and gutter along a short stretch of Bluebonnet Lane where there is currently none. The area is between Del Curto Road and South Lamar Boulevard. Curb and gutter can help keep storm water in the street.
Storm Drain Bypass
We will install an underground pipe and associated inlets on part of Bluebonnet Lane, Del Curto Road, Delcrest Drive and Kinney Road. The bypass pipe will capture rainwater and release it into the channel that runs between Kinney and Thornton.
Channel Enhancement
We will increase the capacity of the channel between Kinney and Thornton. This could include making the channel wider or deeper or other options.
Storm Drain Conveyance from Thornton to West Bouldin Creek
After storm water flows through the channel between Kinney and Thornton, it crosses Thornton and flows overland into West Bouldin Creek. We will provide a path for the water to take across this area. It could take the form of a pipe or improvements to the channel or some combination.
Easements
We will acquire drainage easements at various locations in the project area. Drainage easements are a designated place for water to flow during storms. In some cases, they are also needed for access or maintenance of the drainage system.
Green Streets Component Dropped
During the internal review of this project, it was decided not to pursue the Green Streets initiative on Iva and Delcrest that was presented at the public meeting in September. This option would have improved water quality, but not the flooding.
Timeline
The internal review took longer than we initially thought. We are currently expecting to start construction in the summer of 2017. This assumes that the easement acquisition process goes smoothly.