Hey Neighbors! Mark your calenders for It's My Park Day, this coming Saturday March 2 from 9:00 am till 12:00 pm.
Time to sign up for It's My Park Day and get your FREE IMPD T-shirt on Saturday March 2, 2013. This year we will be cleaning up trash and debris and raking the trail. If time permits we'll repair the fence as well.
Additionally, We will be removing and covering the graffiti that had marred our park lately.
Go to this link and signup.
To receive a FREE T-shirt you must signup online.
See you Saturday in OUR PARK on Del Curto!
There will be a neighborhood cleanup happening this Sunday from 10AM – noon. Meet at the Old Unity church location to pick up the trash bags, safety gear, and some water and snacks. We hope to see you there!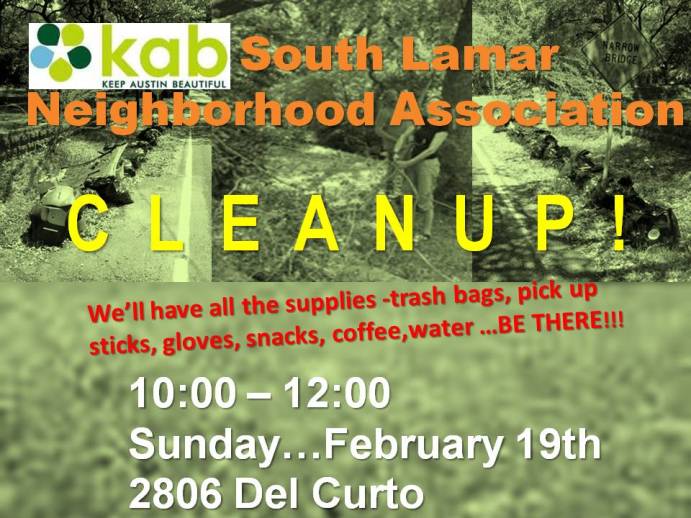 Perhaps you noticed the clean streets in SLNA thanks to Jan and Dottie Cartwright and their cleanup crew! We typically meet at the old Unity Church parking lot, and head out from there, armed with garbage bags to rid the streets of trash. Join us for our cleanup events in 2012. Thanks to Jan and Dottie for heading up the SLNA Keep Austin Beautiful efforts!