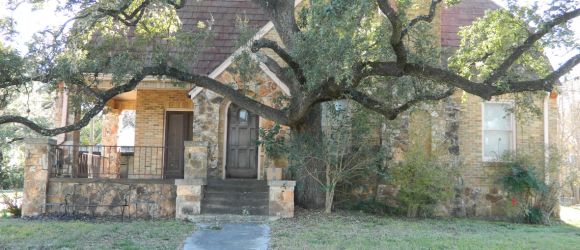 Early last month the Lightsey home at 1805 Lightsey Road was torn down to make way for approximately 31 new homes to be built by PSW Real Estate. The Lightsey home was built in 1932 and sat prominently with a view of downtown at the highest point in the neighborhood. It was located near the intersection of Del Curto and Lightsey (also known as Dead Man's Curve) which is very close to the geographic center of SLNA.
Over the past year the Lightsey home historic zoning case was heard many times including at the Historic Landmark Commission on March 23rd, the Planning Commission on June 23rd, and lastly at City Council on August 13. Despite the Historic Zoning Commission having voted 4-1 to initiate historic zoning, City Council voted 5-5-1 not to preserve the home. Council members Tovo, Pool, Garza, Casar and Kitchen voted for preserving the home; Houston, Zimmerman, Troxclair, Renteria, and Adler voted against; and Gallo abstained. The preservation of the Lightsey home was overwhelmingly supported by members of the neighborhood, and Council member Ann Kitchen (our District 5 representative) vigorously advocated saving the home. However, the arguments largely fell on deaf ears at City Council.
PSW has said numerous times that if given the demolition permit, they will reuse material from the Lightsey home as site features around some of the heritage trees and especially at the entry along Lightsey Road (http://austintx.swagit.com/play/06232015-880/2/ Item C7 @44:08). This diagram shows the location of some of these features: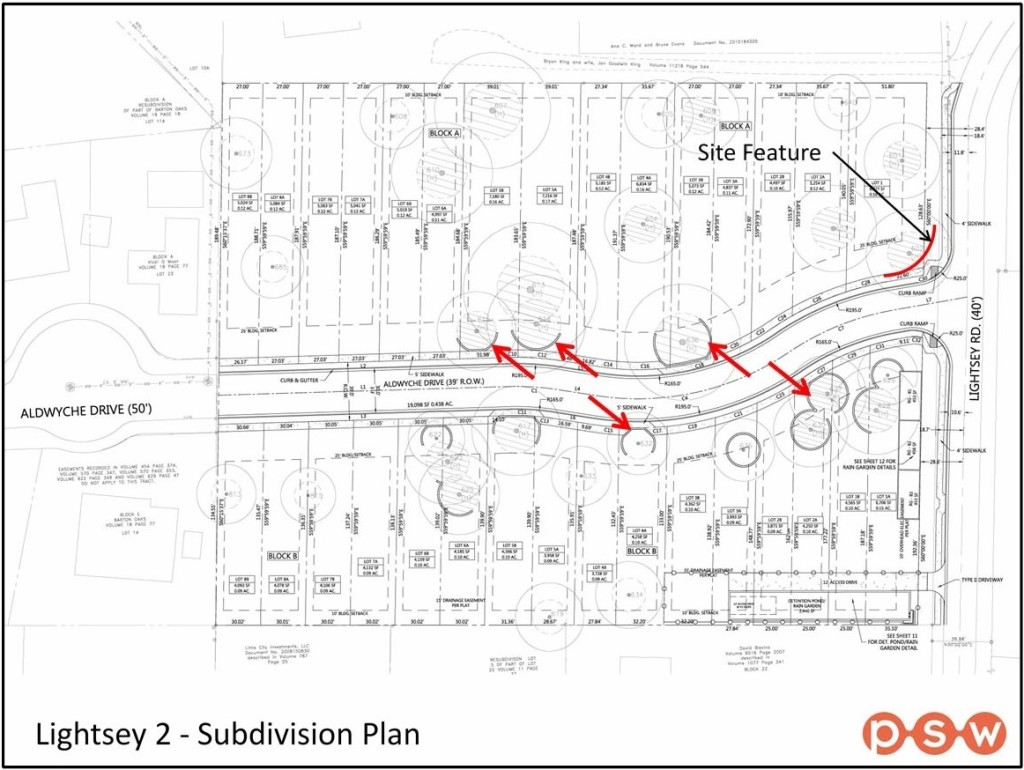 Specifically PSW has said:
We will fully document the existing home; Pictures of each façade and pertinent architectural details, dimensioned site plan existing structure, and historic narrative of the property and its residents
We are willing to use materials/elements in a site feature that evokes the feeling of the architecture of the existing home
Use stone from existing home in the tree wells and retaining walls along the Aldwyche Dr extension
We are very much looking forward to seeing the creative ways PSW fulfulls their promise of reusing the materials salvaged from the Lightsey home. We cannot overstate the importance of developers trying to preserve some of the original character of SLNA, so much of which has sadly been lost in recent years.
During the course of hearings defending the demolition of the historic home, PSW's representative Glen Coleman said that while they appreciate wanting to honor history, "Think about the history we are making".  Making history? Time will tell, Mr. Coleman, time will tell.


Do you remember when our neighborhood was peaceful and quiet, and this time of year you could, at long last, open your windows to enjoy the cool fall weather? It's hard to even imagine that now with all of the construction noise, dust, and smells wafting through the neighborhood!
This seems like a very good time to update you on the status of the South Lamar Mitigation Plan. As you recall, the City Council passed a resolution directing the City Manager to come up with a mitigation plan to address the negative effects of infill development in our neighborhood. The City Manager was to give a presentation to the Comprehensive Plan and Transportation Council Committee by August 4, and report to Council by August 15, with a timeline for the Mitigation Plan and a detailed approach to develop the recommendations for the enhanced tools and related opportunities for the CodeNext effort.
Here's what has been happening and the results to date of this Resolution:
There are certainly some items of concern in this memo and we hope you read it and get engaged in this ongoing process!
UPDATE 10/6/2015 – Recent proposals by COA Watershed Protection Department to address flooding and drainage issues were presented at a public meeting on September 3, 2015. See details in this post: Del Curto Storm Drain Improvements – West Bouldin Watershed
Neighborhoods all over Austin are experiencing rapid growth, and certainly South Lamar Neighborhood ranks among the top for development and density increase. You have probably heard or read about the "South Lamar Neighborhood Mitigation Plan", a resolution passed unanimously this year by City Council directing the City Manager to develop a plan to address the negative effects of infill development specifically in our neighborhood. The resolution strives to address the years of development we have experienced which has led to our problems of flooding, traffic, and lack of supportive infrastructure.
The mitigation plan is a positive development towards improving our future. But perhaps even more important, we now have the opportunity to influence our own future by electing our District 5 representative in the upcoming City Council elections.
In order to get acquainted with the candidates, SLNA is participating in the District 5 Three-Neighborhood City Council Candidate Forum, along with our neighbors in two adjoining neighborhood associations Barton Oaks and Zilker.
This forum was originally scheduled in September, but cancelled on account of threatening weather.  Now it has been rescheduled  for Thursday Oct. 9, 6:15-8:30 at Faith United Methodist Church, 2701 S. Lamar.
We will be conducting 15-minute interviews of all (we hope) of the District 5 candidates.
Here they are in alphabetical order:
Dan Buda        http://www.danbuda.com/
Jason Denny    http://www.dennyfordistrict5.org/
Dave Floyd     http://www.floydfor5.com/
CarolAnnRose Kennedy         no website
Ann Kitchen   http://kitchenforaustin.com/
Mike Rodriguez          http://www.mikerodriguezforaustincouncil.com/
David Senecal             http://www.davesenecalatx5.com/
The idea is to ask questions of each candidate in isolation, so that they won't pick up from each other and there won't be interplay between them during the interview.
We have an important job opening to fill. We hope to see you there on Thursday!