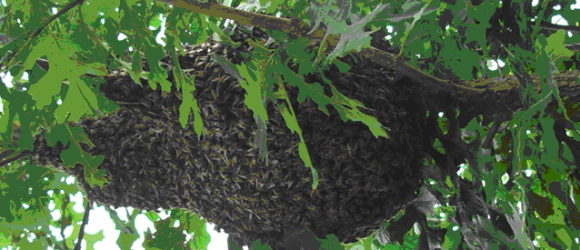 Add this to the March excitement of Spring Break and SXSW – it's honey bee swarm season! At least honey bees don't add to our traffic woes. Our IPM Program Specialist, Wizzie Brown, clues us in to what's happening with honey bees in the spring time, and what to watch out for. Let us know if you spot any swarms in the neighborhood!
Honey bee swarms
Honey bees are beneficial by producing honey, wax and pollinating crops. With warmer temperatures, honey bees are becoming more active and may soon begin to swarm.
Honey bee swarms look like a large clump of bees clustered together. The swarm may stay in a location from a few hours to a week. Swarms are produced as a part of the colony's reproductive process. An established colony produces a new queen, causing the old queen and half the worker bees to leave the colony to search for a new nesting location. Swarming honey bees are usually gentle and unlikely to sting. Swarms are not protecting their home, food or offspring. Scout bees are sent out from the swarm to search for a nesting site. Colonies produce comb and honey and are defensive. Bees from a colony are more likely to sting as they are guarding their home, food and offspring.
Sometimes, honey bee colonies can be found in wall voids, chimneys, attics or sheds. If bees are in a wall void, DO NOT block their entrance; this makes them search for another way to exit and could lead bees into the structure. To keep bees from entering a home, seal any holes found in walls where pipes enter the home, cracks in window framing, knotholes, weep holes, or cracks between wood and brick junctures.
While many enjoy having honey bees around, some people are severely allergic to their venom. This, along with other situations, such as bees located near sensitive areas (such as playgrounds) may require removal or even extermination of the bees.
People should NOT try remove or exterminate bees on their own. Beekeepers and pest control companies have equipment to carry out these jobs in a safe manner. The city or county does not provide bee removal services.
For more information or help with identification, contact Wizzie Brown, Texas AgriLife Extension Service Program Specialist at 512.854.9600. Check out my blog at www.urban-ipm.blogspot.com
The Zika Virus is making the news as it is rapidly spreading throughout South, Central, and now into North America. Our IPM Program Specialist, Wizzie Brown, recently blogged about the virus in her "Urban IPM" blog: http://urban-ipm.blogspot.com/
IPM stands for "Integrated Pest Management", and Wizzie's job through the Texas A&M AgriLife Extension service is to help manage our urban insects – everything from ants, termites, and aphids to butterflies and honey bees … you name it. She helps us understand the beneficial insects and how to manage those that aren't. Wizzie is a great resource for us.
We encourage everyone to read Wizzie's blog and the references that she cites for more information about Zika.
As a neighborhood, we can do a lot to protect ourselves from this virus by being vigilant against standing water. Please empty any containers that collect water so mosquitoes don't have a breeding ground. Look for anything in your yard that holds even the smallest amount of water such as buckets, flower pot trays, tarps, old tires, vehicles, boats, kayaks, etc. If you see standing water on city property, please call 311 to report it. Go on a mosquito safari in your own back yard with the folks at Texas A&M: http://mosquitosafari.tamu.edu/
One of our neighbors, Ed LeBrun is a biologist with UT who studies invasive ants, and he recently sent us this informative and disturbing message:
There is a relatively new invasive ant species that is spreading in Texas and the SE US: tawny crazy ants. Until recently, in Texas this ant was mostly confined to areas around Houston. Unfortunately, this year many populations have been reported within Austin. These ants most commonly colonize a neighborhood by hitchhiking on landscape materials and nursery products. Their arrival in our neighborhood would be a very bad deal. These ants can reach truly enormous densities and they nest and forage inside people's houses in large numbers. There is no proven way to eradicate them once they are established. Control inside structures requires continual treatments with nasty pesticides that only licensed pest control operators can apply. Expensive and very undesirable. With all the new construction in the neighborhood, I thought that it might be wise to contact the builders and make them aware of this threat. Many populations start as a result of commercial scale landscaping projects. The message for the builders is to get nursery products from local (absolutely not from the Houston area or East Texas), trusted sources, and inspect them for ants prior to planting. I am attaching a fact sheet that might be useful to incorporate into the neighborhood news letter.
Let's all be on the lookout for these ants and take action to alert Wizzie Brown or Ed LeBrun if you see them. The information on how to identify and collect the ants, and how to notify these experts is in the Tawny Crazy Ant fact sheet. A big thanks to Ed LeBrun for keeping us informed about this invasive ant.